Accelerate improvement with Ovation's advanced eye-tracking features.
Pinpoint Accuracy
Most VR headsets only provide information about where your head is pointed. Vive Pro Eye takes that to the next level by determining the exact location your eyes are looking, leading to more accurate analytics and better insights.

In these clips, the speaker looks left and right with their head, but only eye tracking is able to reveal how extensively he scanned the crowd.
No Eye Tracking
Previously Impossible Training Tools
Master the art of keeping your attention on the audience, instead of your notes.

Ovation gently reminds you to shift your gaze when it lingers too long. Made possible by eye tracking so accurate that it knows what line you're reading on a teleprompter 15 feet away.
Red Line

: No Eye Tracking

More Expressive Avatars
Watch your performance as you expect it to look, with your playback avatar's eyes blinking and darting around the environment — just as yours did.
No Eye Tracking
Explore More Advantages of Eye Tracking
Sign up to receive the latest news from Ovation, including software updates, tips, events, and more.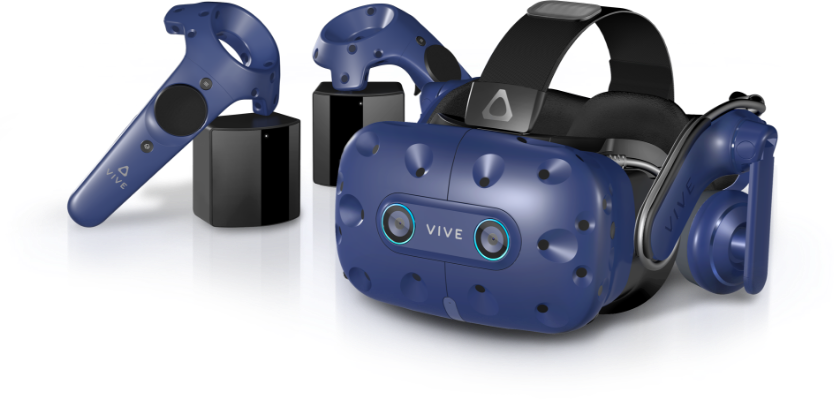 with Precision Eye Tracking
2880 x 1600 Combined Resolution.
Premium visual fidelity.
Deliver breathtaking graphics, texts, and textures in simulations. Allow users to dive into the deepest of details with dual-OLED displays with a combined resolution of 2880 x 1600 pixels and 615 PPI.
Hi Res® & Surround-Sound Audio.
Add essential audible cues, context & meaning.
Improve the quality of virtual experiences with headphones that mimic the volumes, pitches, and reverberations of the real world. Create the immersion required to ensure simulations have a lasting impact.
Ready for Extended Sessions in VR.
Designed for comfort & balance.
Accommodate everyone's comfort preferences. HMD is engineered top-down for easy on and off, quick adjustment, and prolonged use. Fits a wide range of head sizes. Minimizes eye fatigue with adjustable optics. Suits almost all vision types. Even glasses.
32' by 32' Room-Scale Capabilities.*
Create expansive multi-user paradigms.
Design occlusion-free, wide-area experiences with unmatched tracking accuracy via SteamVR™ 2.0. Scale your tracking volumes from seated to standing to full 32' x 32' room-scale for multiple users.
*VIVE Pro Eye is capable of supporting up to a 32' x 32' area using four SteamVR Base Station 2.0 Units. With the included two SteamVR Base Station 2.0 Units, it will support up to a 22'11" x 22'11" area. With two SteamVR Base Station 1.0 Units, it will support a 11'5" x 11'5" area.
VIVE Pro Eye VR System Includes
VIVE Pro Eye Specs
Minimum Computer Specs